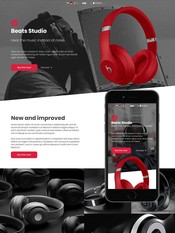 Information
Price: €15,00 / monthly
Category: Themes
Release date: 11/15/2017
Developer: Red Banana
Support
Documentation
One-pager Default
Description
Red Banana one-pager is the first Lightspeed theme that is only focused on just 1 product. Normally, setting up a webshop is very time-consuming. With this unique theme, entrepreneurs can easily place 1 product in the spotlight. Of course, you'll do that in an inspiring way on a responsive webshop with cool dynamic features.

Changelog (version 1.2)
You are using version 1.2 of this theme. See the latest updates here.
1.1
Shopping cart button is added.
The height of the product section is the same as the height of the slider now!
Quote section paralax effect!
1.2
Footer line color update.
More pesific information in Theme settings.
Added images sizes to documentation.
Images