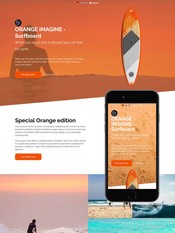 Information
Price: €15,00 / monthly
Category: Themes
Release date: 11/15/2017
Developer: Red Banana
Support
Documentation
Redbanana one pager Surfboard
Description
Red Banana one-pager is the first Lightspeed theme that is only focused on just 1 product. Normally, setting up a webshop is very time consuming. With this unique theme entrepreneurs can easily place 1 product in the spotlight. Of course, you'll do that in an inspiring way on a responsive webshop with cool dynamic features and not on some dull standard webshop. This would not be possible if it wasn't for the Red Banana one-pager!
The Red Banana one-pager doesn't only look cool, it is also fully focused at achieving top results. The design is purely aimed at conversions with lots of call-to-action-buttons. We worked closely with Lightspeed to make sure that the theme exploits all the possibilities and works perfectly on the Lightspeed platform.
Key benefits of the Red Banana one-pager: 
Fully focused on 1 product
Purely aimed at conversion
Inspiring design instead of a dull standard webshop
Many dynamic elements and cool effects
Full of space for uploading footage
Space to clearly highlight product USP's
Provides the ultimate user experience
Designed for every kind of product
Customizable according to your own wishes
Quick to set up
Key features of the Red Banana one-pager: 
One responsive web page with all product data
Sticky header with call to action button
A lot of space for product images
Many call to action buttons for high conversion
Highlighted quote
Possibility to show a product video
Reviews with cool 360º effect
Optimized for SEO and room for SEO text
Mobile first design
Supported by all standard browsers
Choose your own colors
Multilingual support (in English, Dutch and German)
Presets
Documentation
Click here for documentation.
Contact
Would you like to receive more information about the Red Banana one-pager or tailor-made changes? Contact Red Banana!
Website: www.redbanana.nl (Dutch)
E-mail: info@redbanana.nl


Changelog (version 1.3)
You are using version 1.3 of this theme. See the latest updates here.
1.1
Shopping cart button is added.
The height of the product section is the same as the height of the slider now!
Quote section paralax effect!
1.2
Footer line color update.
More pesific information in Theme settings.
Added images sizes to documentation.
1.3
Option to add Google Tag Manager codes.
Added structered data for your organisation.
Logic on not filled in option fields
Bug fix with sticky product image fixed.
Bug fix with big images fixed.
Offset between elements/sections have been fine-tuned.
CSS on check-out page has been updated (mobile bugs fixed).
Shoppingcart button in hero will show on mobile too now.
Sliders will work better.
Product images will show better on page.
When you click on 'Buy this now!' button the page will scroll to the 'Buy' button. Not to the images anymore.
Installed new FontAwesome icons and Google Material icons.
It's possible to set more the 4 images now.
Quote paralax effect has been removed.
Hero effect has been removed. Only need to upload one image.
Images