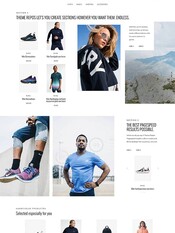 Information
Price: €17,50 / monthly
Category: Themes
Release date: 04/12/2019
Developer: DMWS
Support
Documentation
RePOS Fashion
Description
Theme Repos is a brand new theme for any kind of store! 
You run an online store in Lightspeed ECom and you're done with those standard 13 in a dozen themes. You want to shine, be something special, convey an experience to your visitors. You want to be quick, sell information, tell a story. Different than others but still familiar. Theme Repos is your theme. 
What can you expect from Theme RePOS?
Appearance like never before. Corporate, Chic, sophisticated and all the tools to express yourself

A Google page speed Insights from 88/99 (Mobile/desktop) 

Extreme speed and pageloading

5k High Res upload images
Infinite scroll

Animated GIF images, PNGs

Free Design service from DMWS
Very, very, very nice product page
Split your online store part

 

and the website (productselling / storytelling)
Instagram feed on every page (lightning fast)
Locations Page
Events Page

Wonderful service page

Tell your story in a stylish blog (full width)
Images