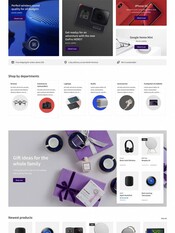 Information
Price: €17,50 / monthly
Category: Themes
Release date: 06/11/2019
Developer: Huysmans
Support
Documentation
Croissant Electronics
Description
You're looking for the perfect online shop with a breathtaking design? Croissant shop has all the bells and whistles you'd expect from a first-class e-commerce shop with some neat, unique features that will help you boost your conversions rates. Make your online store stand out with the unique look it deserves!
Description:
Unique & minimalist design. Everything is pixel perfect!
Modular blocks so you can arrange your content as you wish!
Google fonts integration
Multiple hero banner options. Enable full screen photos, carousel and even videos!
Quickview feature for your products
Instagram shop the look functionality that allows you to import and tag your Instagram photos with your products and create beautiful galleries
Instagram feed feature
Option to add add-on products to your product pages to drive more sales
Show an infinite number of size guides on the products you want
Newsletter signup popup that appears whenever you want
Lightning fast page load
Custom development
This theme will suit most of your needs and support is offered on the existing features, but you may want to add custom features to your store. If you need custom development, please contact us and it'll be our pleasure to see how we can help!
About the author
Dominic Huysmans is a Montreal based graphic designer specializing in creating digital experiences. You can visit his website here: huysmans.me
Changelog
Images