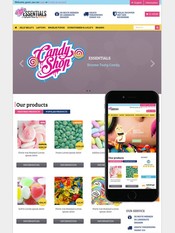 Information
Price: €15,00 / monthly
Category: Themes
Release date: 07/11/2014
Developer: Webdinge.nl
Support
Documentation
Essentials Candy
Description
Essentails is a fully responsive ecommerce theme. It can be used for almost any product. The theme is user friendly, fully customizable and build to increase conversion! Essentials has a fully optimized mobile friendly version and some unique features like:
Other Lightspeed customers currently using Essentials
http://www.bedlinnenfashion.com/ 
http://www.aspergeboerderijterstege.nl/ 
http://www.purewooddesign.be/nl/ 
http://www.pointerwebshop.nl/
Key features 
Mega menu, with the 4 most popular products in that specific category.
Different app integrations, like Yotpo
Unique headlines
Sticky menu
Customizable USP's
Presets
Documentation
Click here for documentation.
Contact
Would you like to receive more information about Essentials, its possibilities, or tailor made changes? Contact Webdinge:
phone: +31(0)13-2110047
e-mail: info@webdinge.nl
Images