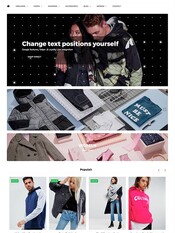 Information
Price: €17,50 / monthly
Category: Themes
Release date: 11/17/2016
Developer: DMWS
Support
Documentation
Conversion Fashion
Description
Theme Conversion is the next level in Lightspeed. It has everything your shop needs to be succesful.
Manuals: Click here
With this new"theme Conversion' you get your visitors and potential customers on the line using a great design in combination
with powerful features. For every shop there is a layout that Theme Conversion can realize. Try it, you won't regret it.
Key features
- Multiple layout option with different menu styles, banner sets, hero image and much more
- Great new features like Bulk order, delivery timer and Free shipping calculation
- Theme Conversion has a great, new and clean look. No nonsense and a great performance in mobile and tablet layouts. 
Images